Lock snapping is a very common method used by burglars to break into a property that has a euro cylinder lock.
Euro lock cylinders are found on almost all properties that have UPVC doors, although a significant number of composite & aluminium doors use them too.
It can take just 5-15 seconds to snap the euro cylinder lock and requires no specialist tools or knowledge. 25% of burglaries use the lock snapping method.
If the euro cylinder is not tested to either SS312 Diamond or TS007 it is at risk of snapping. The best way to prevent a burglary via lock snapping is to replace the euro cylinder with an anti snap version that is tested to standard SS312 Diamond.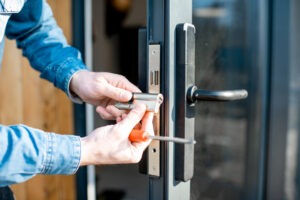 Anti snap locks such as those produced by ABS and Brisant are tested to resist an snap attack and can be easily swapped into your door replacing the original snappable cylinder.
It is important that the cylinders are fitted correctly to ensure they are not prone to snapping as they are available in many different sizes so we would always advise a locksmith does this for you.
How to Tell you Have a Euro Cylinder Fitted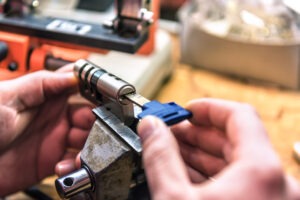 If you have a uPVC/composite or wooden door, the chances are you have a euro cylinder as your lock.
To ensure your lock is an anti snap, make sure it is a SS312 Diamond Approved Cylinder. SS312 Diamond is the highest level of approval for a euro cylinder lock.
If your lock has the 3-Star Kitemark Logo on it, this also indicates the lock is tested against snapping. The Kitemark logo can be found anywhere on the lock; it is usually found on either, the front or side of the euro cylinder.
If you need any advice about anti snap locks or would like us to provide a free security check of your property Contact Us today.